over fields of canvas & paper
First Prize. Halton County Elementary School Weed Control
Poster Contest, 1962
First Prize- Ontario Tuberculosis & Health Association Poster Contest, 1963
First Prize – Royal Canadian Legion Poster Design, 1963
First Prize – Canadian Cancer Society Secondary School Poster Design, 1966
First Prize – Burlington Secondary School Centennial Poster Contest, 1967
Sheridan College of Art & Design Fine Arts Show, 1977
Burlington Fine Arts Council Award, 1978
Ontario Arts Council Grant, 1985
All Cowboy's Aren't Born in the West, 1986
Fort Whoop-Up Interpretive Society Letterhead, 1987
Fort Whoop-Up Interpretive Society Logo & Tourist Brochures, 1995
Fort Regional Museums Logo & Letterhead, 1996
The Buffalo Legacy, 1996
Traditions in Scarlet Exhibit, 1997
RCMP New Year's Levee Program, 1998
RCMP March West Logo, 1998
C. M. Russell Museum "Masters in Miniature" Show, 2007
Calgary Stampede Western Art Showcase Silent Auction, 2010
Canadian Cattlemen's Association Auction, 2010
Calgary Stampede Western Art Showcase Silent Auction, 2011
Canadian Cattlemen's Association Auction, 2011
100th Anniversary Calgary Stampede Western Art Showcase Auction, 2012
Canadian Cattlemen's Association Auction, 2012
Calgary Stampede Western Art Showcase Auction, 2013
Calgary Stampede Western Art Auction, 2014
Calgary Stampede Western Art Showcase Auction & Artist Studio, 2015
Calgary Stampede Western Art Auction & Artist Studio, 2016
Calgary Stampede Western Art Showcase Best of Show New Artist, 2016
Calgary Stampede Western Art Showcase Auction & Artist Studio, 2017
Calgary Stampede Western Art Showcase Artist Studio, 2018
Calgary Stampede Western Art Showcase Artist Studio, 2019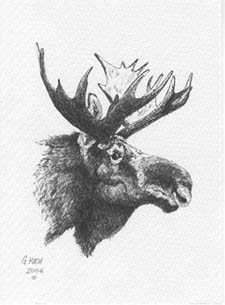 through forests of print,
Springing to the Call. Canada's Forgotten Volunteers of '61, 1983
On Remington, Russell & Red Serge, 1991
To the Grandmother's Land. The Nez Perce Struggle for Canada, 1992
To Mark Our Place, 1995
I Have Committed a Great Wrong in Coming Here, 2000
Custer. An Old Troopers Story, 2001
White Bird. A War Chief's Story, 2003
Canucks With Custer. Canadians at the Little Bighorn, 2005
across the silver screen,
The Afternoon Show. CHEX Television Production, Peterborough,1983
"Fresh Air." Voice of the Pioneer. CBC Production Services, Toronto,1985
A Flash of the Past. A Wild Horse Production, Lethbridge,1991
Whoop-Up Country. K2 Communications Production, Lethbridge,1993
Kind Nature's Scenery to Portray. Pike's Peak Library System, Colorado, 1995
Mountie. Canada's Mightiest Myth. National Film Board of Canada, Toronto, 1996
Red Serge & Black Horses, Core Video Com. Limited, Ottawa, 1997
The March West 1873-1998, RCMP Training Unit, Edmonton, 1998
The Great March. GAPC Entertainment, Ottawa, 1998
Canada. A People's History. CBC Television, Toronto, 1999-2000
There is No Turning Back. U.S. National Park Service, Haper's Ferry, 2002
Custer's Plan. BBC 4 Television, London,2006
The Great War. Galafilm/CBC Television, Montreal, 2006
Passchendaele. Whiz-Bang Flims, Calgary, 2007
and wherever else he can add his voice or lend a hand.
Guest Speaker. The Abraham Lincoln Fellowship, Hamilton, ON, 1982
Guest Speaker. Brant County Historical Society, Brantford, ON, 1982
Master of Ceremonies. Colonel W. W. Cooke Memorial Service, Hamilton, ON, 1983
Guest Speaker. Head-of-the Lake Historical Society, Hamilton, ON, 1983
Program Coordinator. Sheridan College, Oakville, ON, 1983-85
Tribute to an American Legend. Monroe, MI, 1983
Speaker. Little Big Horn Associates Annual Conference, Manassas, VA, 1984
Speaker. Little Big Horn Associates Annual Conference, Auburn, NY, 1986
Speaker. Little Big Horn Associates Annual Conference, Rapid City, SD, 1987
Master of Ceremonies. RCMP Sunset Ceremony, Fort Macleod, AB, 1991
Guest Speaker. 6th Annual Custer Battlefield Historical Association, Hardin, MT, 1992
Guest Speaker. Bear's Paw Battlefield National Historic Site Dedication, Havre, MT, 1993
Master of Ceremonies. Crossing the Bow, Calgary, AB, 1995
Western Stock Grower's Centennial Cattle Drive, AB, 1996
Master of Ceremonies. RCMP 125th Anniversary Levee, Lethbridge, AB, 1998
Guest Curator. Traditions in Scarlet, Sir Alexander Galt Museum, Lethbridge, AB, 1998
Historian. RCMP 125 "March West" Trek, "K" Division, Alberta, 1999
Guest Speaker. 17th Annual Custer Historical Symposium, Hardin, MT, 2003
Guest Speaker. Nez Perce Historic Trail Symposium, Havre, MT, 2003
Guest Speaker. Big Hole National Battlefield, Wisdom, MT, 2005
Guest Speaker. Calgary Family History Society, Calgary, AB, 2006
Guest Speaker. Lethbridge Genealogical Society, Fort Macleod, AB, 2006