Like the colourful threads of a Metis sash, the Drawings, Watercolours and Oil Paintings created by George Kush weave together to chronicle the artist's love for his country, her people and their collective story. His scarlet-coated Mounties, aboriginal people, dashing cowboys, crusty plainsmen and hard-bitten soldiers all stride boldly across landscapes of canvas and paper to present unique, exciting vignettes from our nation's yesteryears.
"I've always had a real passion for history and storytelling and I like to think that with my art I'm transporting the viewer back through time to another place in our country's ever changing and continuing story. With my drawings and paintings it's my earnest desire to share a brief moment in history and hopefully awaken other Canadians, both new and old, to this remarkable heritage we share. What gives me great pleasure is when people recognize and appreciate what I'm trying to achieve, what I'm trying to convey with my art."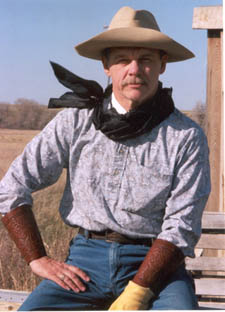 Always keeping those specific goals in mind, George has become well-known and highly regarded within the field of western Canadian art for the historical integrity of his work. He creates artistic representations evolving from his intimate and exhaustive knowledge of his chosen subject matter.
"When I do things, I like to think that I'm doing them right. I'm a real stickler when it comes to being as historically accurate as possible. For instance, you'll never see one of my old-time cowpunchers straddling a saddle fixed-up with a breast-strap and my First Nations people all ride horses without the aid of the white man's bridles and steel bits. My Mounties always appear dressed exactly as they would have been seen, on parade or patrol. They may be only minor details in some people's minds but it gives me a great deal of personal satisfaction to know that I've done my absolute best to present the West as it really was. It was gritty, hard and uncompromising, but awe-inspiring at the same time."
George first exhibited a natural talent for drawing and painting as a boy growing up in rural southern Ontario and by age twelve had established himself as an award-winning artist, having received numerous local and Provincial honours.
"I guess art just came instinctively to me. Certainly a lot more so than my aptitude for academic studies. The things that mattered most to me were always outside the classroom; in the forests, in the fields, and in the tales of the past my grandparents recounted to me. I was a terrible student but fortunately I had a couple of school teachers who encouraged my budding artistic endeavours. They were always in my corner, always entering my artwork in student competitions and I guess the judges must have liked what they saw because the prizes and awards came fairly regularly and the accompanying cheques never once bounced."
Despite such early recognition, George's pathway to becoming a professional artist was not without it share of twists and turns.
"I grew up in a home environment where you were expected to do well in school, graduate, find work, get married and raise a big family. Not be an artist. Art was thought of as an interesting hobby, but it wasn't a career for real life. Art wouldn't pay the bills and it wasn't for responsible grown-ups. Well, I guess I've never been much of a responsible grown-up. I decided at an early age, while day-dreaming in class, that I would have to find my own way, whatever the personal cost, and I went from there. At one point in my life I entered the Ontario College of Art, but that was a big mistake. It was right in middle of the "hippie era", long hair and sandals were the "in" thing, and the only visions our instructors wanted to see interpreted on canvas were big red stripes on blue backgrounds. To their way of thinking, if a horse wasn't green, had two heads and seven legs, it wasn't a horse, and the artist who drew it showed no promise."
Although at times disappointed, George never found himself deterred by such early setbacks and experiences. He always maintained his artistic focus and continued to navigate his own course through the Canadian art scene. Gifted with a keen eye for composition, colour and fine detail, he is one of only a handful of artists in North America to embrace the challenge of the trompe l'oeil – a style of painting that dates back to the Roman period. Working with inks, oils and watercolours, his
A tenth generation Canadian of United Empire Loyalist ancestry, George is also an author, actor, historian and public speaker, who has contributed his energy, expertise and knowledge of Canada's storied past to a wide variety of national and international projects. He currently resides with his long-suffering wife Josephine, independently-minded daughter Virginia, and some "mighty pretty cow-ponies" in the rolling foothills of southern Alberta.
George has been a member of the Blood Nation's "Head Dress (Veterans) Society" for almost two decades and maintains active memberships in several art, historical and military associations. In 1999, he was selected by the Royal Canadian Mounted Police to participate in the Force's 125th Anniversary re-enactment of the historic March West from Fort Dufferin, Manitoba to Fort Macleod, Alberta. Since 2001, he has been a regular at the celebrated cowboy "Artist's Ride" held each year in South Dakota, where he serves as both a participating artist and artist's model. His artwork is shown at cowboy gatherings, festivals and art shows across western Canada and the United States.